In honor of International Women's Day, I have put together a list of 60 powerful independent women quotes.
This day is important because it celebrates the social, economic, cultural, and political achievements of women around the world.
It's a day to reflect on how far we've come and to continue fighting for gender equality.
On a personal touch, this day is also special to me because I, too, was suffering from employees who decided to treat me differently once I had my kids. Turning from a VP role to a marketing employee. There's nothing wrong with being a marketing employee, but for me the switch was hard to take. Especially when my ego was bruised and I felt like less of a person because of it.
I know that I am not alone in this experience, and that is why International Women's Day is so important. That is also the reason I started this blog, to help moms in their journey so that each can become a strong and independent woman.
A woman deserves to be independent, no matter if she is single or in a relationship. We all need our own space and time to grow. And that task becomes a terribly difficult task when having kids as it often feels like our time is no longer ours.
But it is possible.
I have two girls and there's nothing I want more is for each of my girls to become an independent girl.
Being a strong and independent woman isn't easy. It takes a lot of courage, strength, and determination. But it's so important that we continue to be independent women and empower each other.
A strong woman stands up for herself. A strong woman knows that she deserves the very best. A Modern independent woman knows that she can have it all if she wants it.
So, in honor of all independent women out there, here are 60 independent women quotes to motivate and inspire you.
5 motivational quotes for women:
"There is no limit to what we, as women, can accomplish." – Michelle Obama
2. "The future belongs to those who believe in the beauty of their dreams." – Eleanor Roosevelt
3. "A woman is like a tea bag; you never know how strong she is until she gets in hot water." – Eleanor Roosevelt
4. "Ignore the glass ceiling and do your work. If you're focusing on the glass ceiling, focusing on what you don't have, focusing on the limitations, then you will be limited." – Ava DuVernay
5. "Women are the largest untapped reservoir of talent in the world." Hilary Clinton
5 powerful women quotes:
6. "Women belong in all places where decisions are being made. … It shouldn't be that women are the exception." – Ruth Bader Ginsburg
7. "I'm not a feminist, but I do believe in the power of women." – J.K. Rowling
8. "There is no force equal to a woman determined to rise." – Maya Angelou
9. "I really think a champion is defined not by their wins but by how they can recover when they fall." – Serena Williams
10. "If you want something said, ask a man; if you want something done, ask a woman." – Margaret Thatcher
5 inspiring quotes for women
11. "The question isn't who's going to let me; it's who is going to stop me." – Ayn Rand
12. "To all the little girls who are watching this, never doubt that you are valuable and powerful, and deserving of every chance and opportunity in the world to pursue and achieve your own dreams." Hillary Clinton
13. "I can't think of any better representation of beauty than someone who is unafraid to be herself." – Emma Stone
14. "Women are the real architects of society." – Harriet Beecher Stowe
15. "There's something so special about a woman who dominates in a man's world. It takes a certain grace, strength, intelligence, fearlessness, and the nerve to never take no for an answer." – Rihanna
5 success quotes for women
16. "I can never be safe; I always try and go against the grain. As soon as I accomplish one thing, I just set a higher goal. That's how I've gotten to where I am." – Beyoncé
17. "In the future, there will be no female leaders. There will just be leaders." – Sheryl Sandberg
18. "The most effective way to do it, is to do it." – Amelia Earheart.
19. "Define success on your own terms, achieve it by your own rules, and build a life you're proud to live." Anne Sweeny
20. "I didn't know what I wanted to do, but I always knew the woman I wanted to be." Diane Von Furstenberg
5 confidence quotes for women
21. "Because confidence is really trust in yourself, right? It has nothing to do with what someone else thinks of you; it's what you think of you." – Chrissy Metz
22. "Courage starts with showing up and letting ourselves be seen." – Brené Brown
23. "No woman should be told she can't make decisions about her own body. When women's rights are under attack, we fight back."- Kamala Harris
24, "Think like a queen. A queen is not afraid to fail. Failure is another stepping stone to greatness." – Oprah Winfrey.
25. "I'm tough, I'm ambitious, and I know what I want. If that makes me a bitch, okay." – Madonna
5 spiritual quotes for women
26. "I am a woman with thoughts and questions and stories to tell. I am a woman with a voice." – Chimamanda Ngozi Adichie
27. "Joy is strength." – Mother Teresa
28. "When one door of happiness closes, another opens; but often we look so long at the closed door that we do not see the one which has been opened for us." – Helen Keller.
29. "Spirituality is recognizing and celebrating that we are all inextricably connected to each other by a power greater than all of us and that our connection to that power and to one another is grounded in love and compassion. Practicing spirituality brings a sense of perspective, meaning and purpose to our lives." – Brené Brown
30. "Character can not be developed in ease and quiet. Only through experience of trial and suffering can the soul be strengthened, ambition inspired, and success achieved." – Helen Keller
5 working women quotes
31. "I never dreamed about success. I worked for it." – Estée Lauder.
32. "Any women who understand the problems of running a home will be nearer to understand the problems of running a country." – Margaret Thatcher
33. "My father had a very simple view of life: you don't get anything for nothing. Everything has to be earned through work, persistence, and honesty." – Grace Kelly
34. "Working hard becomes a habit, a serious kind of fun. you get self-satisfaction from pushing yourself to the limit. knowing that all the effort is going to pay off." – Mary Lou Retton.
35. "I've come to believe that each of us has a personal calling that's as unique as a fingerprint-and that the best way to succeed is to discover what you love and then find a way to offer it to others in the form of service, working hard, and also allowing the energy of the universe to lead you." -Oprah Winfrey
5 encouragement quotes for women
36. "Develop enough courage so that you can stand up for yourself and then stand up for somebody else." – Maya Angelou
37. "I am learning every day to allow the space between where I am and where I want to be to inspire me and not terrify me." – Tracee Ellis Ross
38. "It took me quite a long time to develop a voice, and now that I have it, I am not going to be silent." – Madeleine Albright
39. "No one can make you feel inferior without your consent." – Eleanor Roosevelt.
40. "Little girls with dreams become women with vision" – unknown
5 funny women quotes
41. "The reason women don't play football is because 11 of them would never wear the same outfit in public." – Phyllis Diller
42. "This has always been a man's world, and none of the reasons that have been offered in explanation have seemed adequate." – Simon de Beauvoir
43. "I'd much rather be a woman than a man. Women can cry, they can wear cute clothes, and they are the first ones to be rescued off of sinking ships. – Gilda Radner
44. "Sometimes I wonder if men and women really suit each other. Perhaps they should live next door and just visit now and then." – Katharine Hepburn
45. "A woman without a man is like a fish without a bicycle." – Irina Dunn
5 women empowering women quotes
46. "There are two powers in the world; one is the sword and the other is the pen. There is a third power stronger than both, that of women." – Malala Yousafzai
47. "Women must learn to play the game as men do." Eleanor Roosevelt
48. "Feminism isn't about making women strong. Women are already strong. It's about changing the way the world perceives that strength." – G.D. Anderson.
49. "Dignity will only happen when you realize that having someone in your life doesn't validate your worth."- Shannon L. Alder
50. "I do not wish them [women] to have power over men; but over themselves." – Mary Wollstonecraft
5 attitude quotes for women
51. "We might not be able to change our circumstances, but we CAN change our attitude." – Beth Moore
52. "Life is not measured by the number of breaths we take, but by the moments that take our breath away." – Maya Angelou
53. "If people are doubting how far you can go, go so far that you can't hear them anymore." – Michele Ruiz
54. "Fake your confidence. And fake how sure you are of yourself. Eventually, it will just start happening." – Amy Schumer
55. "If they don't give you a seat at the table, bring a folding chair." –Shirley Chisholm
5 single women quotes
56. "I am not free while any woman is unfree, even when her shackles are very different from my own." – Audre Lorde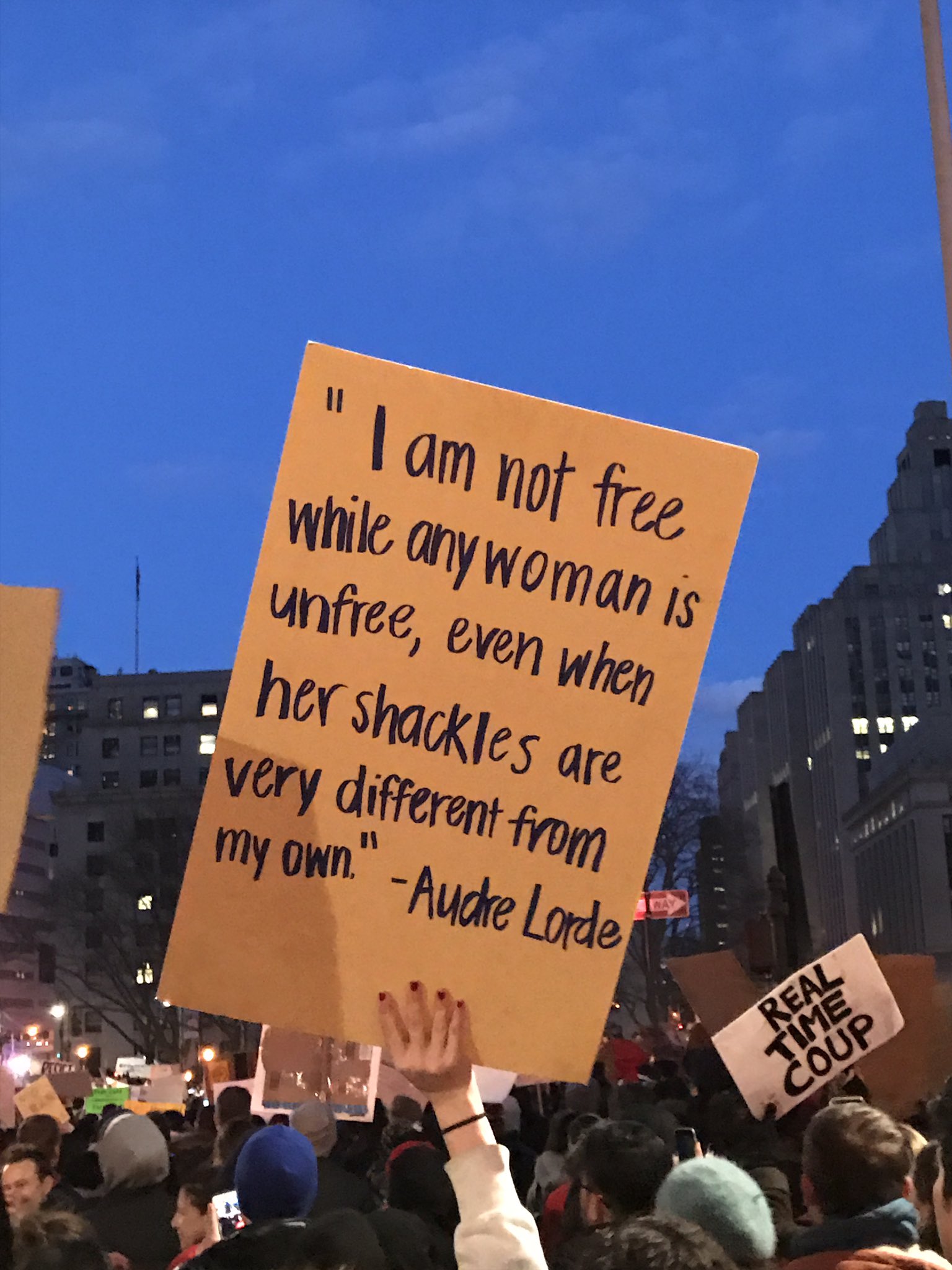 57. "I don't need to be in a relationship to be told how beautiful, pretty and sexy I am. I already know that." – Mandy Hale
58. "If you're not happy single, you won't be happy taken. Happiness comes from within, not from men." – Unknown
59. "It is better to be single and wait for what you deserve than lower your standards and settle for less than God's best for you." – Brittney Moses
60. "Some women choose to follow men and some women choose to follow their dreams. If you're wondering which way to go, remember that your career will never wake up and tell you that it doesn't love you anymore." – Lady Gaga
Before we conclude
I truly hope that these independent women's quotes have inspired you in some way. That each one of them has given you the strength and power to know that you can stand on your own two feet and be whoever you want to be.
International Women's Day is just around the corner, so use this as an opportunity to reflect on all of the amazing things that YOU have accomplished. You are powerful, strong and independent and you deserve to be recognized for all that you are!
So go out there and show the world what you're made of – we can't wait to see what you achieve.