There are a lot of reasons to start a blog in 2022. Even if you hear that blogging is dead, there are so many reasons that blogging is not dying at all.
This question has been asked by thousands of people, and one thing I know for sure: If you want to start a mom blog in 2022, then go ahead! There are so many benefits to starting your own blog.
In this blog post, we will discuss 30 of them! Not only are blogs great for personal expression, but they can also be a powerful business tool.
Many moms have successfully turned their blogs into full-time businesses. If you're on the fence about starting a blog, read on! We'll give you all the information you need to make an informed decision.
Reason #30: You can make a real income from blogging.
Blogging is a real business. If you're willing to put in the work, you can make a great living from blogging. In fact, many moms have turned their blogs into full-time businesses.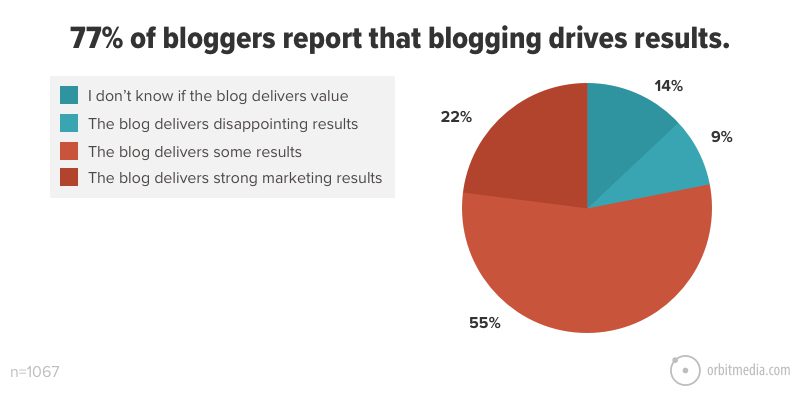 It is a great way to earn passive income, which means that you'll continue earning money blogging even when you're not actively working on the blog itself.
This type of business model allows bloggers who work full-time jobs to still bring home some extra cash when they need it most.
There are many ways to monetize your blog, including advertising, affiliate marketing, and selling digital products or services. It is work, but it can be very rewarding!
Reason #29: You can share your knowledge and skills with the world.
If you have a skill or some knowledge to share, blogging is an excellent way to do so!
Whether it's baking gluten-free desserts or using essential oils safely, if you know something that others don't, chances are there are people out there who would love to read your blog.
Did you know that 70% of internet users read blogs according to LinkedIn?
This is a fantastic way to learn more about things that people are passionate about and, in turn, share your own knowledge with them on whatever it is you're blogging about!
You may even stumble upon a new hobby or interest while researching for topics to write about – which can be an added bonus if you ever feel stuck creatively.
Reason #28: You can do it from home.
Blogging is a business that you can run entirely from home, and it's one of the best ways I know for moms to make money while staying at home with their children.
If you have kids, blogging is an excellent option because it allows you to work around your family schedule instead of having someone else dictate when you need to be somewhere!
This means no more rushing out in the morning or getting stressed about the traffic in the morning! And since there are so many different types (and topics) of blogs out there, there really isn't anything stopping anyone from starting one themselves – especially if they're
Reason #27: You can build a brand for yourself.
If you're looking to start a business, blogging is a great way to do so. Not only will you be able to share your products and services with the world, but you'll also be building a brand that people trust.
Over time, this can lead to more sales and a larger following. And, as your blog grows, you may even find yourself becoming a celebrity or expert in your field!
Reason #26: You can network with other bloggers.
One of the best things about blogging is connecting with other bloggers in your niche (or even from different niches). This can be extremely valuable, both personally and professionally.
You never know where those connections will lead – maybe you'll end up collaborating on a project or guest posting for each other's blogs. The possibilities are endless!
Reason #25: It's fun and creative!
You may not think so at first, but blogging can actually be quite enjoyable once you get into it.
When writing about topics that interest you, the words will flow more easily from your head onto paper (or computer screen), making for an enjoyable experience every time!
Reason #24: You can keep up with the latest trends.
As a blogger, it's your job to stay on top of the latest trends. This is important because you want to make sure that your blog content is fresh and relevant.
You don't have to be trendy for fashion or beauty – there are plenty of other topics out there that are constantly changing. For example, if you're a food blogger, you'll need to stay up-to-date on the latest cooking trends!
Reason #23: You can learn new skills.
Blogging can be a great way to learn new things and improve so many new skills. And the best part is that you get to apply what you learn right away on your own blog.
As a blogger, you'll learn how to write well-researched articles that are engaging and informative for readers, which will help them with their own blogging endeavors too!
Maybe you've always wanted to learn how to use Photoshop or start a podcast. Well, now's your chance!
Blogging also teaches people about marketing themselves online through social media sites like Pinterest or Instagram. And learning search engine optimization techniques such as keyword density checkers or using SEO tools like Semrush or Surfer SEO. This ensures new blog posts are optimized, so visitors find content easily accessible from search engines like Google, Yahoo, Bing, etc.
Reason #22: You can make friends from all over the world.
One of the coolest things about blogging is that you can make friends from all over the world. This is because bloggers are a friendly bunch, and we love connecting with each other online.
Not only will you have access to tons of helpful information, but you'll also have a support system that understands what you're going through in your blogging journey. It can be challenging to find people in your area who understand what you're going through, but with blogging, it's easy!
Reason #21: Blogging can be very therapeutic.
Writing about your thoughts and feelings (assuming you chose a personal blog niche) has been shown to positively affect mental health.
In fact, some studies suggest that people who blog regularly may experience less stress than those who don't write at all (or only occasionally). Writing about something that interests you can positively impact both the mind and body! This is because sharing information online allows us to express our thoughts without fear of judgment from others. So we don't feel like our ideas are being kept inside, leading to depression over time if left unchecked.
The University of Texas shares more physical benefits of short-term writing out-thought and feelings:
enhance immune function
lower blood pressure
decrease heart rate
reduce asthma and arthritis symptoms
lessen sleep disturbances in patients with metastatic cancers
So if you're looking for a creative outlet for your emotions, blogging could be just what the doctor ordered!
Reason #20: You can build relationships with readers through comments and emails.
One of the great things about blogging is that it allows you to interact with readers in real-time – something that's not possible when writing books or articles for magazines.
When someone leaves a comment or sends an email saying "thank you" for your post, it feels great to know that you've made a difference in someone's life. It also encourages you to keep writing!
Reason #19: You can help others through your blog.
Many successful bloggers start their blogging journey with the intention of helping others. And that's a fantastic thing!
Whether you're sharing tips on how to save money or providing support to people who are struggling, your blog can make a real difference in other people's lives for those who read it and follow your advice.
Reason #18: You'll have access to various tools and resources.
One of the best things about blogging is that so many different tools and resources are available to help you succeed.
The blogging community is packed with goodies, from courses on how to start a blog to helpful plugins that make your life easier. All you have to do is take advantage of them!
Reason #17: You can track your progress and measure your success.
As a blogger, it's crucial to track your progress and measure your success. This way, you'll know if you're on the right track or not.
There are many different tools and metrics that you can use to monitor your blogs, such as Google Analytics, email marketing metrics and more. Use them wisely, and they'll help you improve your blog over time!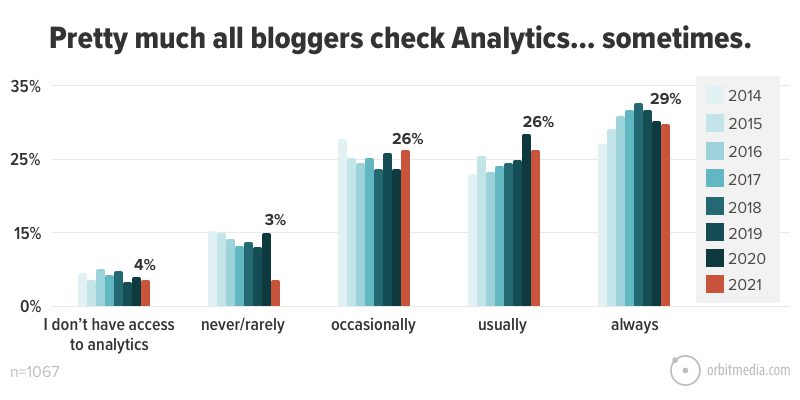 Reason #16: It's easy to get started.
There are many things about blogging that might seem intimidating at first, but the truth is it's not as hard as you think.
In fact, you can start a blog in less than 15 minutes and be up and running! All you need to do is find a host (like Bluehost) and sign up for an account. If you are not techy and want a step-by-step guide, check out this post on starting your own blog.
If you need help in the process, you can also find people by the hour that can help in any area you need. Look at websites like Upwork or Fiverr and type in "WordPress website" to find people who specialize in this.
Reason #15: Low start-up costs.
Blogging is one of the lowest-cost businesses to start up, and it's easy for anyone with a computer or smartphone can do so from their own home! All you need is internet access (which most people already have), some free time on your hands, and maybe even just $50 per month if you want to get fancy by hosting through Bluehost or others.
Alternatively, you can always use a free blogging platform like Blogger/WordPress and use a free domain.
This makes blogging a fantastic opportunity for those looking to earn extra income who doesn't want the hassle of setting up an office space right away. Especially since many bloggers end up working remotely anyway once they've built their audience online.
A survey from Blog Tyrant showed that out of 350 bloggers 36.8% spent more than $100 when they started their blog. Marginally fewer (33.4%) managed to start a blog with a $20 to $100 budget.
The percentage of those hoping to get a positive blogging ROI with an investment of $20 or less stood at 12.9%, while the percentage of those who didn't invest any money in a blog was slightly higher (16.9%).
Reason #14: You'll have a record of your children's lives and your own life
One day your children will be grown and gone, but the memories of their childhood will be forever etched in your blog. You can share photos, videos, and stories about them that future generations will enjoy reading.
Also, as you get older, you'll appreciate having a record of your life to look back on. Blogging is a great way to do so because it's easy to update and read from anywhere in the world with an internet connection!
Reason #13: Improve your writing skills.
Orbit Media found that 55% of bloggers say they see results from blog posts with 2,000 words or more. Therefore, it's important to write long-form content if you want to see results.
The more you blog, the better your writing skills will become. You'll learn how to capture your readers' attention and keep them engaged from beginning to end. Not to mention, you'll also develop a style that is all your own!
It also leading to better communication with clients, friends, and family members. In addition, you'll also be exposed to a variety of different writing styles and genres. This will help you to develop your own unique voice as a writer.
Reason #12: Be your own boss.
As a blogger, you'll be able to make all the decisions about what goes on your blog and when it gets posted – no boss is telling you how much time off they think is right!
This means that blogging can give people who have never worked before their freedom back again by allowing them to work from home with little or no supervision.
Reason #11: It's a great way to connect with your audience.
As a blogger, you'll be able to interact with people interested in what you have written about or created for them. There is no distance between author and reader!
Blogging gives readers the chance to ask questions directly from writers via comments sections on their blog posts. This means there can be much more meaningful conversations than those held over social media platforms like Facebook or Twitter.
You'll also get feedback from other bloggers and maybe even potential customers!
Reason #10: You can work from anywhere in the world.
You don't need to be in an office or even in the same country as your audience as a blogger!
You can work from anywhere with internet access – this could be a coffee shop, your home, on vacation…the list goes on.
This gives people the freedom to travel wherever they want and still continue working on their blogs. It also allows for more flexible hours so that you can spend time with family and friends without having to worry about taking calls or answering emails.
Reason #9: Search engines love blogs.
If you're looking to increase traffic to your website, then starting a blog is the way to do it! Blogging helps improve your site's SEO (search engine optimization) because Google and other search engines love fresh, new content.
This means that if you include keywords related to your business in your blog posts, you'll be more likely to show up higher in search engine results pages (SERPs).
Businesses that maintain blogs get up to 55% more visitors (HubSpot)
Reason #8: Improve your grammar and spelling.
As a blogger, it's essential that you write well, so readers will understand what is being said on your blog posts. This means using correct grammar rules like sentence structure (subject-verb agreement).
If there are any mistakes in your writing, then this could lead to confusion among visitors, which could turn them off from coming back again.
Reason #7: Your blog is your space to express yourself.
As a blogger, you have the freedom of expression and can share your thoughts without worrying about what others might think or say.
You're not restricted by any rules when writing on blogs, so it's up to each individual reader how they want their experience with this medium will go!
Reason #6: Build a Blogging Community.
By having an active blog, it's possible to build up a community of readers who will return regularly. They know what kind of content they're getting every time they visit your site or read one post after another.
Building a blogging community is not easy. It takes time and effort, but it is possible!
Reason #5: Blogging can help you grow your business.
If you're a small business owner, blogging is one of the best ways to get more traffic coming back again and again. Both from people interested in what they have bought before or might want to buy now.
Many businesses that started blogging have seen an increase in sales after starting a blog about their products or services.
Acturaly, HubSpot found that Marketers who blog are 13x more likely to achieve a positive ROI.
Reason # 4: You can write about anything you want!
Unlike writing a school assignment, on a blog, you have the freedom to write about anything that comes to mind without having to worry about staying on topic.
If something exciting or funny happened to you during your day, go ahead and share it with your readers. They'll love getting this type of personal insight into who you are as a person!
Reason # 3: Gain new insights into yourself.
When bloggers get stuck in ruts, they often post less frequently or might even stop altogether. This isn't good for anyone because it means that visitors who were once interested in what you had to say are no longer being given new content. This could lead them away permanently!
If you decide to start a blog, you'll be able to reflect more on your life and what's happening in it. This can help you learn valuable life lessons, which can lead to better decision-making regarding decisions that affect you personally.
You can also develop your confidence blogging and become better at it over time. You see that people are reading your blog content and engaging with it.
Reason # 2: Helps keep you organized.
Blogging can help keep you more organized because it allows you to plan out your content marketing in advance. This is especially helpful if you're not the best at coming up with ideas on the spot!
This way, when it comes time to write a blog post, all you have to do is follow what's been written down and add your own personal thoughts/experiences on top of it.
Learning how to stay organized is a valuable skill that will come in handy for blogging and other areas of your life, such as work and family matters!
Reason #1: To Start Or Not To start a blog? Yes, you should consider it seriously.
Blogging is an easy and inexpensive way to get your name out there as a professional in whatever field you work!
It also allows people who would otherwise never be discovered to reinvent themselves as unique talents through blogging.
Which led them to new opportunities that they might have never dreamed possible before!