Some people want to start a blog but don't want their name to be all over it. In this guide, we'll cover everything you need to know about how to start an anonymous blog.
More importantly, you will learn how to drive traffic to your blog when you can't expose it to your network.
Blogging anonymously is an excellent alternative if you do not want to share your personal lives online and with the rest of the world. You may have a job and don't want your boss to know about your new blogging venture. Or maybe you want to blog about a sensitive topic, like your personal life, finance, relationship, or sex.
There are many reasons to blog anonymously, but this is a topic for another post.
So, does anonymous blogging mean you have to take the challenging route to start blogging?
Well, not necessarily.
When you choose to blog anonymously, you lose the leverage of sharing your new blog in your social media accounts. Sometimes you can't even share it with your friends, which is a big drawback.
So, the question that comes to mind is naturally:
Is it possible to keep your privacy and still have a successful blog?
The quick answer is YES.
So, now the remaining question is how exactly?
In this guide, you will learn:
The downsides of blogging anonymously

How to start your anonymous blogging venture

The art of anonymous writing

Promote an anonymous blog without using your network

How can I make money blogging anonymously?
The Downsides of Anonymous Blogging
Blogging anonymously means, plain and simple, that you can't use your network to promote your blog. So, not sharing that you started blogging in your social media feeds.
When you start a blog, keeping your anonymity means you'll have to be creative in your promotional strategies to get traffic.
You can gain momentum almost from day one when you can spread the news anywhere. You'll be able to ask your friends to share your new blog or add comments. And if they are good friends, they will be happy to help you out.
As an anonymous blogger, you need to invest much more in getting your initial traffic. But it is doable, so don't let that gloomy forecast bring you down.
Even when you keep your anonymity, you can gain significant traction. Work on your blog until you make it. It takes a few months, and it may take a few years for others. Your hard work and investing in the right strategies to grow your blog will pay off big time if you just don't quit.
How to Blog Anonymously?
So, how to start blogging anonymously? I will divide this section into actionable steps to avoid missing anything.
1. Buy a Domain and Hosting Plan
You need to take specific steps to get your new blog going. You first need to own your blog and pick the type of blog niche you would like to set up.
You should not pick a domain name with your real name. It should be something you can connect with. Go for creative and appealing domains.
You can use this excellent domain name generator to get great ideas for your blog name.
Just remember that your domain name should match your blog name.
Once you have decided on your name, you need to go and buy it. You want to go with ".com" domains as those are the best ones.
I strongly recommend Bluehost, where you can buy the domain and the hosting together for only $2.95 a month and get a FREE domain for a year. They make this process easy for a beginner.
Their support team is great. I have contacted them a few times for different issues, and they were always accommodating and straight to the point.
Here is a step-by-step guide to set up your hosting plan:
1. Go to Bluehost.com and click on "Get Started"
2. Choose a hosting plan
On this screen to pick the best hosting plan for you. I recommend the Choice Plus option as it already comes with FREE domain privacy and protection. Which is essentially making sure your details will not get exposed to anyone looking for the domain ownership of your blog.
3. Add your domain
If you have already purchased a domain, you can add it here. Or you can either choose to skip this step or purchase a new one. Remember that with Bluehost, you get a FREE domain name for a year when you purchase a hosting plan for 3 years term.
4. Enter your details
Here you can enter your contact details. You should use your own name here and make sure you purchase domain privacy if you did not pick the Plus Choice hosting option.
5. Select the term and other details on your hosting plan
Below you will see the Package Information step. Here you can choose how long you want to purchase your hosting plan. You can pick 12, 24, or 36 months.
The longer you choose your hosting plan, the lower the price you will pay.
Also, if you select an annual payment vs. a monthly payment, the price will be reduced even further. So if you are planning to run your blog for the long term, then going with the 36 months option would be the best choice to go with.
You can uncheck Bluehost SEO Tools and SiteLock Security. These are unnecessary and can be replicated with other free WordPress plugins.
6. Buy it
Finally, pick your payment option. You can choose to make the payment via credit card or PayPal.
2. Enable Domain Privacy Protection
When you buy a domain, you need to provide your personal information like name, address, email, etc.
If you did not purchase domain privacy, everyone who searches for this information could find it by default. If you want to hide this information, setting up domain privacy is necessary.
This can be added for a small charge with your hosting provider.
3. Install WordPress and Select a Theme
There are different blogging platforms to start your new blog. You can choose between Wix, Blogger, Squarespace, Tumbler, and more. However, most bloggers choose to go with WordPress as it is most accessible.
Here are the steps to install WordPress:
If you have chosen Bluehost as your hosting provider, then you don't need to install anything but:
1. Log into your new Bluehost account
2. Select the Hosting menu option and scroll down to the website. You will then see a link to install WordPress
3. After you have finished installing WordPress and setting up your blog password, you can choose your WordPress theme but don't invest too much in this step. You can always decide on a theme later.
4. Create a new email account and add it to your blog
Create a new email account for your blog that will match your domain name. Do not use a Gmail or Hotmail (or any other) email address. It is better to have a branded email address.
Remember not to use your personal email address in your blog's contact forms, privacy policy, or anywhere else if you want to keep your identity hidden.
Now that you have your new anonymous email address, you need to add it to WordPress to ensure your personal email is not listed there. In addition to the author's information.
Go to Settings > General and change the Email Address to your new anonymous email account.
You want to remember to change your email address for your profile data.
Go to Users > Your Profile and change the address to the new one here.
The art of anonymous writing
Starting an anonymous blog means your content really needs to stand out but still keep your anonymity.
As you have probably read in so many other places, your chances to compete in getting higher rankings in Google means your content has to be 10x better than your competition.
A few years ago, a blog text of 500-1,000 words would do. But these days, the most important is writing great content that answers the searcher's intent (for your chosen keyword), and it most likely means longer text.
Quality content and implementing proper SEO strategies are vital to getting sustainable traffic. Today, Google still drives most traffic online, so making sure your content is optimizing for Google is a top priority.
You can find many guides on properly implementing SEO strategies within your content. But also focus on creating long content that covers the article's topic from beginning to end. Starting with the problem and ending with the solution.
There is a correlation between writing long content and getting backlinks, as you can find from Brian Dean's research on SEO results in 2020
1. Make it personal
Even if you don't want to share your identity. It is better is you share your personal stories.
Being personal helps your audience feel connected with you and consider you trustworthy.
So blogging anonymously is an excellent opportunity to share your stories and be more open about your experience than if you had revealed your identity. Knowing that people who know you will read your blog can make you feel uncomfortable to tell things as they are or as you would really like to share them.
So be open, genuine, and honest. People can tell the difference these days. If they feel your stories are fake, they may not read them.
2. Keep photos anonymous
Of course, it is up to you if you want to share authentic photos or use stock photos.
Don't share photos that are already published on social media.
You can use your photos but notice that people may guess where you live if you share photos from your neighborhood or other locations.
3. Think twice about sharing your Actual Financial / Health / Mental data
Your personal data, like anything else, is something that you decide if and what to share.
But you should know that if you decide to reveal your identity one day, then people you know will see that data. So think twice and see what's working best for you.
So, before posting anything personal, ask yourself how you would feel if your friend or your boss were to read it.
If you are ok with it, then go ahead and enjoy 🙂
4. Don't like or share your blog's content On your personal social media
This goes without saying.
If you want your identity to be kept anonymous, then don't like or share anything you've written/created using your personal social media account.
Get traffic Without Your Network's Help
I like to think about writing anonymously, like starting from scratch in a new country when no one knows you. Wandering the streets and hoping you would find your own group of friends, just not sure when.
I was there when I relocated alone to Canada for 5 years, not knowing anyone. That was a while ago, but I still remember the feeling. End of the story, by the end of my stay, I had an extensive group of friends that I still keep in touch with up to this day.
So, getting traffic is possible even when keeping your anonymity. There are different ways you can start getting traffic which are:
1. Set Up Your Social Media Profiles
The first thing you want to do is create social media profiles on Facebook, Pinterest, LinkedIn, or in other words, where your target audience hangs out.
Remember to set up those profiles using your new email address. Do not use your personal email already linked to your personal accounts. And do not link those new business profiles to your real identity.
2. Be Active on Forums
You can join forums like Quora, Reddit, or any other relevant forum and follow the questions that are coming up in your relevant niche. This is a great way to get to know your audience and what they care about
Getting to know your audience is essential to match your content to their interest.
You can participate and answer questions. And be honest with your answers, and do not try to oversell yourself if you want to gain other peoples' confidence.
3. Promote on Social Media Platform
This is a great and not so expensive way to get the first users to your new blog.
You aim to create a Facebook page or a Business Instagram profile (it can also be Twitter or LinkedIn) to promote your website or specific blog post and grow your page/profile likes.
You also want to grow your social exposure because you can grow a community that will get instant notification once you share a link to your new content.
Being on these platforms means you need to be active in those channels. So my best tip when you start blogging is to pick one and focus on it until you feel comfortable enough to tackle the next platform.
4. Be Active on Pinterest
Even though I have said before to focus on only one channel, a Pinterest account is almost a must when having an anonymous blog that focuses on the following type of content:
Beauty
Style
Fashion
Design
Health and wellness
DIY and crafts
Travel
Food and drink
Quotes and inspiration
Photography
Pinterest is better than all the other platforms in terms of sales, and its conversion rate is the highest. Meaning there is more chance that people clicking on your pin will actually buy something than if you would share it on Facebook.
It is also much easier to grow your list of followers and monthly views than another platform.
Learn more here:
Once you set up a Pinterest business account (which is different from your personal account) and create your boards, you'll need to start posting beautiful images of your content.
I use Canva to create those posts. I find it a great and free way to create the exact vision of my post that I can share on my Pinterest account.
You can grow your Pinterest account by posting your own pins and saving others to your boards. Alternatively, you can use an automatic system to do it for you by investing 2-3 hours each month.
I use Tailwind, which automates everything, so you do not need to do it manually.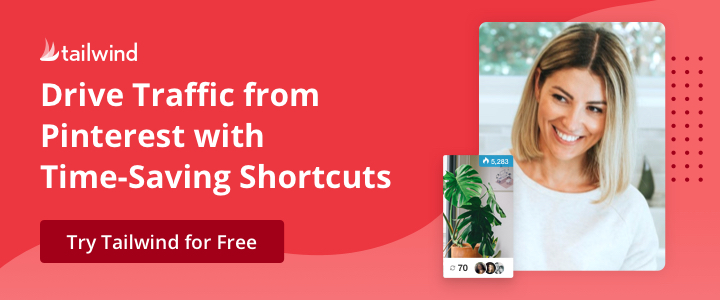 It posts your Pinterest pins on a schedule that best fits your audience. So, suppose you like to publish your content on Wednesday morning, maybe in Tailwind. In that case, it will suggest another schedule based on when users are more active on Pinterest to potentially grow your exposure.
I have seen instant results using Tailwind with its feature called Tribes, a community of Tailwind users sharing each other's pins.
So, it is like everybody is helping everybody become successful on Pinterest.
Seriously, I am glad that I have once read a review about this platform, as it just saves me so much effort in manually trying to grow my account.
5. Blog on Medium
Medium is an excellent share your content on. It is like an open blogging platform where people can publish their articles. Here is an excellent infographic on why you should promote your content on Medium:
So, sign up with your new email and start creating content.
You should know that you can import your posts to Medium using a convenient import button that's available once you click on your profile > your stories:
Once clocked, you can paste a link to your article:
And click Import to upload your post. You can, of course, modify your text before publishing.
This is simple and worth your efforts to get more traffic.
Can You Make Money From Anonymous Blogging
The most burning question anonymous bloggers have is blogging anonymously and making money.
And the answer is yes, of course.
All you need is a blog, and if you do not have one, I strongly advise starting with Bluehost for only $2.95 a month.
If your website has excellent and well-crafted content that answers your audience's burning questions, and you are getting traffic, you can make money.
There are different ways to make money:
Create your own online course
Placing ads on your website
Selling coaching or consulting hours
Many bloggers mix different income streams, such as placing ads and doing affiliate marketing.
Being consistent with your anonymous blog and not giving up if you're not seeing instant rewards will reward you significantly later.
If you are starting, you should know that success will not come within one week, one month, and sometimes even one week. That's all ok and normal. Just keep doing what you do.
Your blog success is directly linked to how much you can put into it, by learning from your mistakes and amending if necessary. And by your mindset and willingness to do whatever it takes.
I am a mother of 3 small toddlers, and I do not have all the time in the world while I work full time. It is what it is.
I do not sleep for one straight night, and my productivity is impacted.
To be honest with you, I do feel pressure to do more. This inner voice tells me that I can do more.
At the same time, I remember that whatever I do now is better than not doing it at all.
So, if you can't become a full-time blogger or put an extensive amount of work on your new blogging journey, that's ok.
Please take it as it comes and make sure you keep working on it.
Do not stop.
Even if sometimes you are delayed on your posts or do not have time to share enough, your consistency will bring your success at the end and allow you to make money from your blog.
Be gentle with yourself.
And maybe one day, when you are successful enough, you will reveal your true identity.
Disclaimer: Please note that this content includes affiliate links that provide a commission to you at no cost. However, the links are for the best software and tools you need to start a successful blog. For more information, you can read my affiliate disclosure in my privacy policy.